Facilities & Services
Service Excellence
Enjoy an exquisite collection of exclusive experiences.
Swimming Pool
Welcome to the beautiful pool and the heated outdoor Jacuzzi of Corfu Palma Boutique Hotel, an area that we developed in order to offer you moments of summer relaxation and tranquility. In the pool there are umbrellas and sun beds free of charge for our guests. There is also, a pool bar open from 11:00 to 19:00 that serves drinks, colorful cocktails, tasty coffee and refreshments, lunch and snacks, helping to revitalize you during your swim and sunbathing. In the pool area you can indulge in a game of chess, backgammon or table tennis and spend pleasant hours of relaxation with your friends and family.
The depth of the water does not allow swimmers to dive or jump and the use of the pool by children is the responsibility of their parents. The use of the pool is permitted until 19:00, when it closes for cleaning.
Pool towels For your convenience the hotel offers special blue pool towels, which you can obtain daily from the pool bar and return there the used ones. Please refrain from using the white towels outside your room, or hanging wet clothes on the glass railing of the balcony, for aesthetic reasons.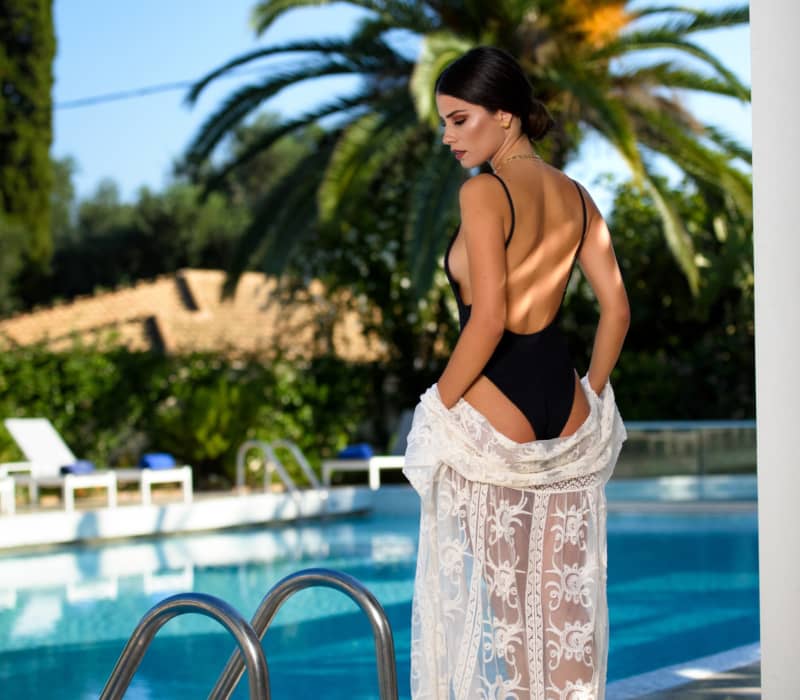 Hotel Gardens
The gardens of our fine boutique hotel in Corfu are designed in such a way as to form a representative sample of the local fauna. In addition to the many beautiful flowers , they include olive trees, fruit trees, cypresses, prickly pear and kumquat trees which are the hallmark of the vegetation in Corfu. Special mention deserves the over 700 years old olive tree you will encounter on the way to the pool, next to the sundial, a sculpture made by the artist, Andreas Galanakis. Enjoy unique moments of relaxation and rest in the beautiful gardens of Corfu Palma Boutique Hotel.
Relax in the hammock that is hung among olive trees that are older than 300 years old and reflect watching the passage of time as recorded in the sundial.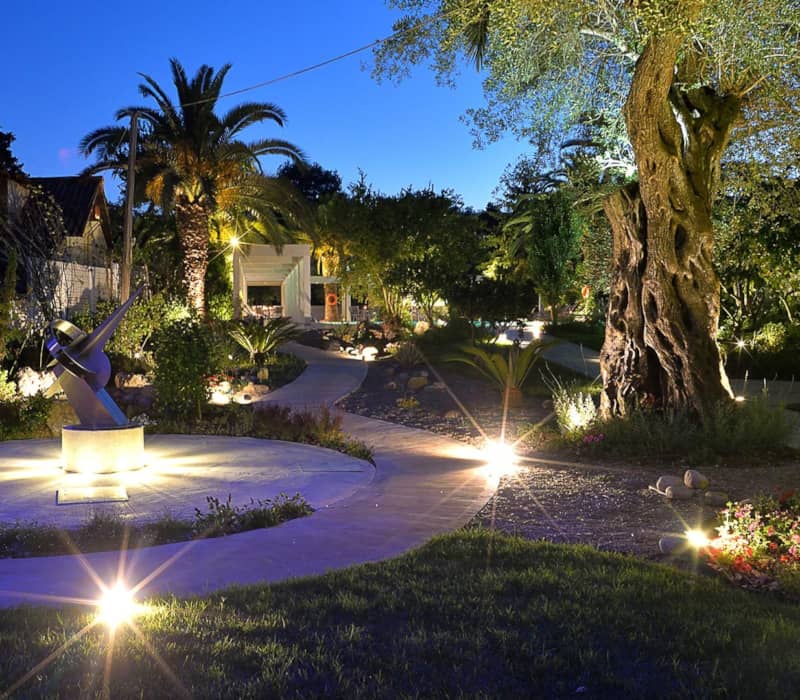 Room Service
The opportunity to order food from a well-designed room service, from 07:30 to 23:00 is convenient. Imagine being able to have a lie-in on Sunday morning, hear a knock on the door and have your breakfast served - or being able to lift the receiver at any time of day to order some snacks, something to drink or a meal.
At the Corfu Palma Boutique Hotel, room service is available to our guests night and day; whether it's breakfast, lunch, dinner, day or a midnight snack, we deliver your food within a few minutes.